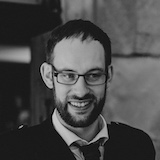 I am a DevOps Architect and Software Development Lead based in Carluke, Scotland.
I like to develop things. Professionally, my background is in Java development but also extends as far as Linux server setup and pretty much everything in between.
In some of my free time I tinker with other technologies, which sometimes end up getting blogged about.
Blog
I write about the things that I tinker with at DevWithImagination.com.